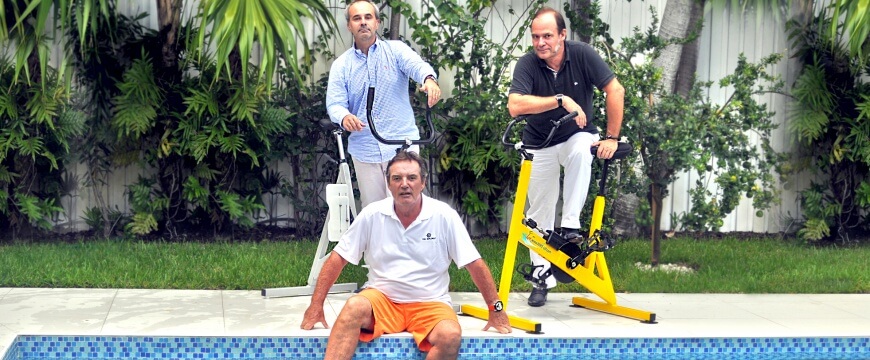 Meet the Founders of Wike-Up!
While aqua biking is not a completely new concept, Wike-Up! is a brand that is going to change the face of the industry forever. As the lightest aqua bike currently on the market, just about anyone can easily maneuver it in and out of the water for easy and effective workouts. After sitting down and talking to the founders, Patrick, Jean-Michel and Antoine, it became clear that not only did they have an innovative product, they had a true passion for it. Read on to hear all about their journey:
What inspired you to create Wike-Up?
Patrick: Credit goes to Jean Michel's wife, actually!
Jean Michel: It's true! My wife wanted her own aqua bike, but it isn't a common item in the United States. I felt it should be.
Antoine: In France, aqua biking is very popular so we were all surprised when Jean Michel said he was searching for one to no avail… The absence of aqua bikes in the U.S. market inspired us to bring the trend here in a new way.
What made you decide to call your aqua bike 'Wike-Up!'?
Patrick: Another one I can't take credit for! Basically we were brainstorming…
Jean Michel: After a little while, Antoine got the idea to combine 'Water' and 'Bike.'
Antoine: And voilà! Wike-Up! was born. I have to say that I am very creative!
What made the three of you decide to work together?
Patrick: Well, basically, we have three different backgrounds, but the same goal.
Jean Michel: We're all very compatible too. We just work well together.
Antoine: We've known each other a long time. With our differing backgrounds, it just fit.
So, you mentioned your different backgrounds. What did you do before founding Wike-Up!?
Patrick: I was General Manager of a company specialized in ciphering telecommunications and fax. I am also a shareholder of a French company in the field of medical and aesthetical devices. And in the US, I was President of FCare, a company specializing in vein treatments.
Jean Michell: I was a network director (managing 500 sellers) during 24 years at the Atlas editions. Then, I created Canelle Fine Foods, a Miami-based company, that I sold in January 2015.
Antoine: I implemented a car dealership distribution channel in France for a leading European car manufacturer. Then, in the US, I created 2 real estate companies specializing in short term home rentals in France for American clients. Currently, I'm also advising companies that would like to settle in the US.
How would you describe your company in 3 words?
Patrick: Aquafitness, Freedom, Wellness
Jean Michel: Fitness, Freedom, Evolution
Antoine: Efficiency, Energy, Fitness
What are your main objectives for the next year?
Patrick: Create the best team to help us grow Wike-Up!
Antoine: Settle the company by:
– Building a distribution network
– Democratizing "aqaubiking in your own pool"
– Creating a 'WIKERS' community
– Selling +/- 200 'Wike-Up!" aquabikes
What makes Wike-Up! different from other brands?
Patrick: It's an innovative product, especially since it is made of the lightest materials compared to other aqua bikes on the market. We also offer a quality product and great customer service.
Jean Michel: We're a young company with affordable products. We listen to our clients, so we are constantly innovating our products.
Antoine: We offer very light aqua bikes in a variety of colors. It's a low price for a very good product.
What problems does your product solve?
Patrick: Our product helps people deal with health issues related to blood circulation, obesity, cardiovascular health and varicose veins.
Jean Michel: It's also much more accessible than joining a gym or spin class. Wike-Up! is made to workout at home, and is for all members of the family to enjoy.
Do you use aqua bike yourself?
Patrick: Yes
Jean Michel: Of course, my dear!
Antoine: Of course! Can't you see my body is changing?
Ready to check out some of great products Wike-Up! has to offer? Check out the options here!