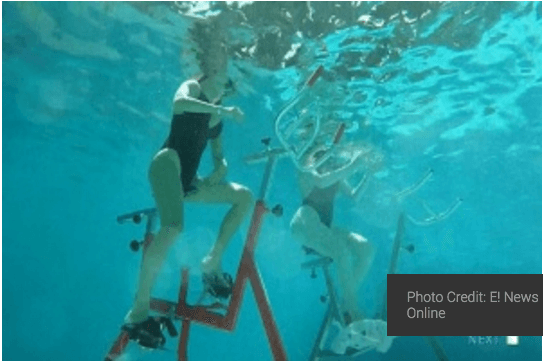 Keeping up with Aqua Biking
If you haven't heard the latest aqua biking buzz, it's all about the Kardashians. While aqua biking has always been a popular workout in European countries, it is now poised to make a bigger splash in the United States with its new celebrity endorsement.
According to OK! Magazine, while traveling in St. Bart's and filming their infamous reality series, Kardashian sisters Khloe and Kourtney took to the pool to get a workout in. To amp up their water aerobics workout, they kicked it into high gear by using an aqua bike in their routine. The result is a now famous GIF of Khloe's hind quarters bouncing as it breaks the surface of the pool. (See below)
If Kim Kardashian's butt broke the Internet last year, she certainly has some competition with Khloe's aqua bike derriere.
Whether you love 'em or hate 'em, the Kardashians are well known for their voluptuous, yet toned figures. Aqua biking is an exercise that is certainly helping them reach their fitness goals. Now this trend is available to enjoy in your own home when you purchase a Wike-Up! aqua bike. Just toss it in your home pool and you're ready to go!
An aqua bike workout is excellent for:
Improving cardiovascular endurance
Activating blood circulation
Aiding those that can only engage in low impact exercise
Toning muscles
Reducing fatigue
Useful for rehabilitation workouts while injured
With all of these benefits and more, it is no surprise that celebrities are flocking to the aqua biking trend. We definitely recommend investing in a Wike-Up! aqua bike today so you can get in shape, stay fit and exceed your fitness expectations. Do as the Kardashians do and take a ride on an aqua bike today! You won't regret the results!