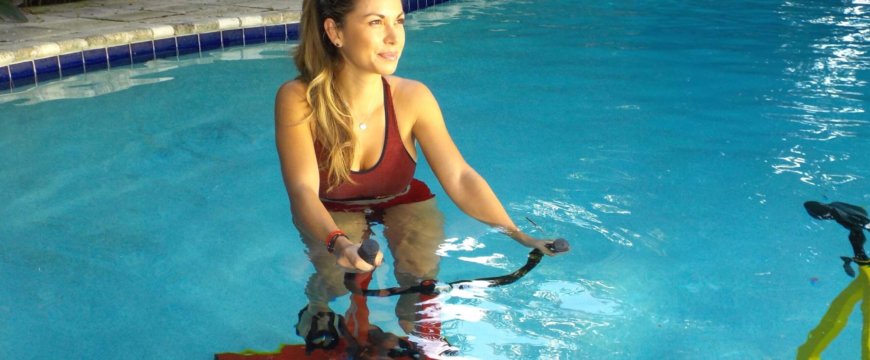 Why you should start Aquabiking ?
Did you know that a regular workout could improve your everyday life in many ways ?
You all know that physical exercise helps you to stay fit and in a good shape … But , it also improve unexpected things.
 1. Perfect after a day of work

After a hard working day, you need to think of something else, give your brain a rest. The best way to do it is to make your body work instead of your head …. by training even 15 min on your Wike-Up!  aqua bike, you will change your thoughts. At the end of your workout you will feel much better than a regular evening without aqua biking .
 

2. Psychological benefits
This benefit has surprisingly gone unnoticed . But it is proven : practicing sports, helps you feel better in a psychological way.
It will decrease your anxiety, treat depression and make you feel more confident.
Michael Otto, PhD, a professor of psychology at Boston University said that "the link between exercise and mood is pretty strong. Usually within five minutes after moderate exercise you get a mood-enhancement effect."
Moving your muscles is good for your mental health.
"I often recommend exercise for my psychotherapy clients, particularly for those who are anxious or depressed,"
says Jennifer Carter, PhD, counseling and sport psychologist at the Center for Balanced Living in Ohio
3. Benefits for Body and Health 
Of course a regular workout will help to stay fit.
"Water biking is the best and easiest way to improve blood circulation, eliminate vein problems, tone muscles, improve the cardiovascular system, and help reduce cellulitis." -Dr. Martin Janeau
4. Improve your diet 
After aquabiking you can feel hungry . A healthy diet is highly recommended to make the most of your workout.
If you are paying attention to your weight, a regular Wike-Up! aqua biking exercise is really helpful.
Combining this workout with a balanced nutrition can help reach optimal results in shorter periods of time.
5. Last benefit : using Wike-up! is so simple, Easy to use , and for everyone .
One last thing …
Wike-up! aquabiking is really made for everyone, very easy to use, light ,(made with the lightest material for everyone to carry it, install it, and use it). Wike-up! offers the best quality workouts without leaving the comfort of your own house.
Now, You have no excuses … Make the splash!